Sattva Vijaya 
Shine Your Heart Lotus Light 
& 
Dispel the Winter Blues
Thursdays 3-5pm (PST)
November 21, December 5, December 12, 2019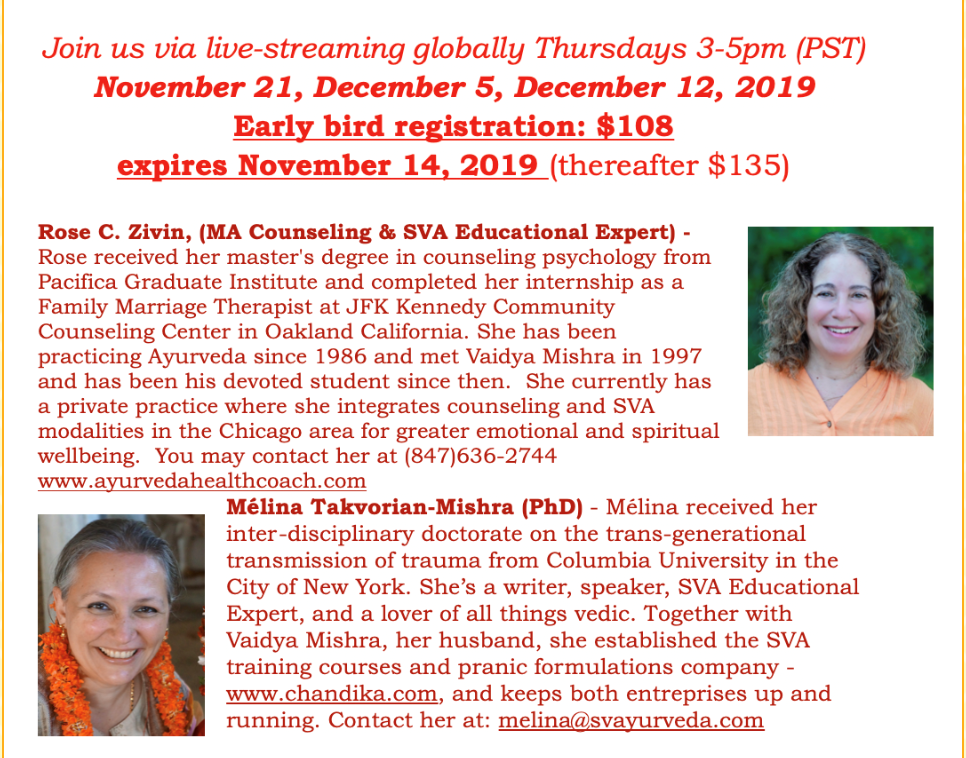 Are you grieving the loss of a beloved? do you find yourself far from dear ones? is solitude the only companion you claim? do you dread the holiday season because it accentuates your isolation and pain? Join our community of ayurvedic teachers, counselors, and followers and learn simple yet transformative (ayur)vedic tools to connect with and experience your very own timeless blissful heart during this holiday season
Rose Carol, (MA Counseling & SVA Educational Expert) - Rose received her master's degree in counseling psychology from Pacifica Graduate Institute and completed her internship as a Family Marriage Therapist at JFK Kennedy Community Counseling Center in Oakland California. She has been practicing Ayurveda since 1986 and met Vaidya Mishra in 1997 and has been his devoted student since then. She currently has a private practice where she integrates counseling and SVA modalities in the Chicago area for greater emotional and spiritual wellbeing. You may contact her at (847)636-2744 (www.ayurvedahealthcoach.com  
Mélina Takvorian-Mishra (PhD) - Mélina received her inter-disciplinary doctorate on the trans-generational transmission of trauma from Columbia University in the City of New York. She's a writer, speaker, SVA Educational Expert, and a lover of all things vedic. Together with Vaidya Mishra, her husband, she established the SVA training courses and pranic formulations company - www.chandika.com, and keeps both entreprises up and running. Contact her at: [email protected] or (818)808-5945
"Why are we offering this course?
The Holiday Season is upon us, Melina and I wanted to  create support for those who are perhaps without their  family members; are mourning the loss of a beloved; or due to unforeseen circumstances, will have to spend this festive season all alone, in solitude. 
We all know that the holiday season can be an emotionally trying time even for those who are not experiencing grief, depression, or solitude! But for those who are, it can reactivate repressed deeply buried memories, patterns, experiences - and bring even greater pain.  As a professional grief counselor, I witness it all the time in my clients. Your loss could have occured 3 months, 3 years, or 30 years ago - all it takes is a song; the smell or taste of food or a perfume; a word; they can trigger an avalanche of buried emotions and make you lose your grounding and revert to unwanted patterns of behavior. 
We will be discussing grief, but also depression - they are different aspects on the same spectrum. 
Both Melina and I will offer practical tools and tips that come from the teachings of our beloved ayurvedic guru and healer, Vaidya Ramakant Mishra, as he spoke and taught at length on this subject matter. 
When Melina met Vaidya Mishra in 1998 and became familiar with his ayurvedic protocols, she discovered the time-tested world of alternative tools (dietary and other) that allow for concrete palbable change in our ability to process and heal from mental and emotional turmoil without having to go through facing and battling the "beast within" analytically in hope of breakthroughs, or other non-viable options. She will share practical easy-to-implement gems from Vaidya's SVA treasure-trove with you. 
As to me, I used to sit and take notes for Vaidya Mishra during the ayurvedic wellness sessions he offered to clients all over the USA, but specially in Seattle back in the 1990's. I remember him once saying how Sadhaka Pitta (the subdosha of Pitta that is in charge of processing emotions) was way out of balance in almost every woman's pulse he touched in the USA! He also added that it was not like that in other countries. He explained that there were many factors contributing to this collective condition, but that much more seems to be expected from American women, and that they were not supported in their relationships here in the USA… Vaidya loved to illustrate his teachings with stories, and he often told the following story to those who were going through grief, or depression…"
Want to hear the story? Join Rose & Melina, and let's usher in this holiday season in high spirits through SVA community support for whatever you may be going through…. let's do it together… 
Course Curriculum
First Session on November 21, 2019
Introduction to Sattva Vijayanthi & understanding of vedic science for mental and emotional health: what's new that's super old and time-tested?!
Meaning of Vijaya &  Sattva: Victory of our innermost subtle core: the light of pure consciousness - what's that?
Definition of 3 Gunas or properties/propensities of the mind: Sattva, Rajas, and Tamas (this portion includes a self-administered questionnaire to help determine your current state of mind)
 Pragyaparadh: Cause of Suffering; Smriti: re-gaining the "memory of our selves as wholeness" and blissful… 
Putting it all together: the big picture… 
      Concluding with Q&A session
Second Session on December 5, 2019
Flow and Ritucharya – cycles of time as expressed through seasonal change: Vaidya Mishra's teaching on seasonal changes in the context of sattva vijayanthi. How to create emotional & mental balance during the holiday season and also prepare for the lack of sun and cold weather.  The emotional impact of the holidays and winter on our mental health.
Experiencing the numinous within your heart: ushering in the "Light of Consciousness" with the "Hrit Pundarik" Sutra 
Diet Recoomendations/Recipes for holidays (sent separately as a PDF)
Ayurvedic unique formulations to help support the heart & mind
Check List of Lifestyle Tips (sent as PDF)
Q&A
Third Session December 12, 2019
Grief & Loss: how grief gets re-enlived during the holiday season & what you can do about it!
Self-nurturing & pranic support: through SVA Marma & Prana 
The big picture: Vedic Scriptures on Death, Loss, and grieving; the Yoga Vashista, the Bhagavad Gita; 
Vaidya Mishra on grief & sadhaka pitta
Staying true to your blissful self in the midst of grief and loss without forsaking the memory of your loved ones or your integrity followed by Q&A
Course Cost: $135
Please Note: this course requires approval before purchasing and getting access.
Please complete the agreement form below and request access.
We will contact you by email once you are approved.
Are you already signed up for this course?
If so, click the button below to sign in and view your courses.